It seems like you are using an outdated browser. To ensure the best browsing experience, we recommend updating your browser to the latest version. This will not only improve your security but also enable you to access all the features and functionality of this site. Please consider upgrading your browser for a smoother and more enjoyable experience.
Huge House Clearing Garage Sale
12 photos
Click for fullscreen
An absolute intriguing miscellany of memorabilia and bric-a-brac to be explored!
Vintage furniture (with more to be inspected in house upon request)!
Loads of vintage pictures, prints, frames, retro household items, plus books and vinyl, tins and teddies!
A gardener's delight with loads of pots, plants, hand tools, bird baths and pot frames!
Working household electrical goods, e.g., heaters, fans, microwave and retro lamps.
The pictures cannot show all!
Everything must go, make an offer! No early birds on the day.
Cash only on the day thank you.

When
Saturday, 9th Dec 2023
8:00am - 4:00pm
Please do not arrive early
Where
12 Gregg Street, Diamond Creek, VIC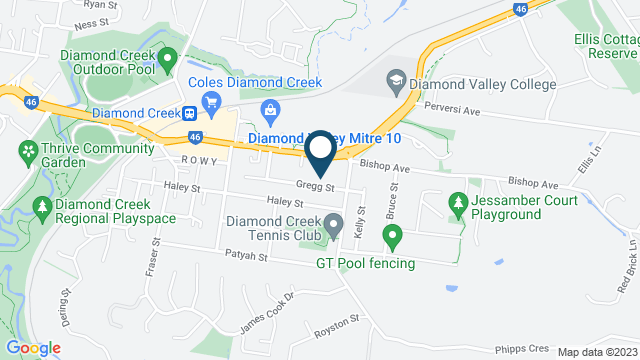 Listed 2w ago
1690 views
Image 1 of 10
Close
Next
Prev
Nearby garage sales
Ivanhoe, VIC
This Saturday
Ivanhoe Garage Sale
Lots of interesting things. Some from a deceased estate. Bric-a-brac, small amount of furniture. Lots of bargains.
More Details
Brunswick, VIC
This Saturday
Epic and Eclectic Brunswick Garage Sale
Huge garage sale with an eclectic and high quality selection of items. Read on for lots of goodies! Huge range of good quality women's clothes...
More Details
Melbourne, VIC
This Saturday
Melbourne Garage Sale
Moving house and downsizing. Household furniture, glasses and wares. Electrical, building and plumbing items Assorted tools Remote control...
More Details
Reservoir, VIC
This Friday
WAREHOUSE SALE
Property styling and interior design company - warehouse sale! 35 Lakeside avenue, Reservoir. Friday 8th 10am-2pm Saturday 9th 10am-2pm No holds Cash...
Fri, 8 Dec 2023 & Sat, 9 Dec 2023
More Details
Eltham, VIC
This Saturday
Eltham Garage Sale
We have had a spring clean out, Some products are too good to throw out. So we are doing the next best thing and having a garage sale. Over Saturday...
More Details
Blackburn North, VIC
This Saturday
Melbourne Garage Sale - Downsizing
Downsizing Sale Single timber and single metal frame beds Timber Chest of drawers Garden tools and many more small items
More Details
Ivanhoe, VIC
This Saturday
Garage Sale in Ivanhoe
Garage Sale for vintage furniture, fashionable and vintage clothing items, books, appliances, jewellery and more! We want it GONE so prices are low,...
More Details
Preston, VIC
This Saturday
Revised date time now 9th due to weather conditions - Making Room come rain or shine
a garage sale with a twist - we are getting the canopy's out and our umbrellas hope to see you today!!! We have such a selection, soomething...
More Details
Glen Waverley, VIC
This Saturday
Glen Waverley Garage Sale
Backyard sale: 9th n 10th Dec. Kitchen wares, toys, electronic equipment, books n many more. Everything must go.
More Details